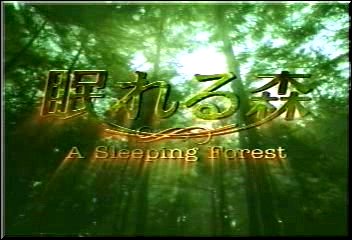 " A Sleeping Forest "
Title: 眠れる森
Title (romaji): Nemureru Mori
Genre: Mystery
Episodes: 12
Viewership ratings: 25.2
Broadcast network: Fuji TV
Broadcast period: 1998-Oct-08 to 1998-Dec-24
Air time: Thursday 22:00
Theme song: Camouflage by Takeuchi Mariya
Insert song: With or Without You by U2
Oba Minako heeft 15 jaar geleden haar familie verloren tijdens een ongeluk op Kerstavond.
Ze kan zich niets van het ongeluk herinneren, maar heeft wel vage beelden van een gelukkige jeugd, waarin ze met andere kinderen speelde.
Terwijl ze voorbereidingen treft voor haar huwelijk met Kiichiro vindt ze oude brieven van een jongetje, gestuurd aan haar net voor haar vertrek, waarin hij haar vraagt hem te ontmoeten 15 jaar later, op een bepaalde datum, in het bos dat The Sleeping Forest genoemd wordt.
Ze gaat er op in.
Ze ontmoet Naoki Ito, die ze zelf niet kent, maar hij weet alles van haar, ook van de laatste 15 jaar.
Ze schrikt, vlucht terug naar haar eigen stad, waar ze tot de ontdekking komt dat hij reeds een appartement tegenover haar gehuurd heeft...
Een stalker ?
Langzaam maar zeker ontrafeld zich het drama zoals zich dat toen echt afgespeeld heeft.
Grote verwarring maakt zich van haar meester, wie is wie, en wie kan ze vertrouwen ?
Cast
Kimura Takuya as Ito Naoki
Nakayama Miho as Oba Minako
Natsuyagi Isao as Ito Naomi
Nakamura Toru as Hamazaki Kiichiro
Okada Masumi as Hamazaki Masateru
Harada Mieko as Hamazaki Makiko
Yusuke Santamaria as Nakajima Keita
Kazama Shunsuke as Nakajima 敬太
Honjo Manami as Sakuma Yuri
Yokoyama Megumi as Tamaki Harue
Jinnai Takanori as Kokubu Yoshiharu
Honma Kenichi (本間憲一)
Nagamine Naoko (長嶺尚子) as Shoko
Sato Yu (ep1-2,4)
Yazawa Kouji
Sagawa Mitsuo as Ogura Keiji
Yamaji Kazuhiro as Tamaki Kazuyoshi
Nobuzane Kazunori (信実一徳) as Oba Yoshisan
Makimura Senzaburo (牧村泉三郎) as Morita Akihito
Inoue Kayo (井上夏葉) as Morita Kazuko
Minami Miho (南美穂) as Morita Kimiko
Ishibashi Ryo
Tayama Ryosei
Sasaki Katsuhiko
Okumura Kouen
Mori Kiyuki
Ashizawa Takako (芦沢孝子)
Yoshimitsu Ryota (吉満涼太)
Tanaka Kenji (田中研二)
Ihata Juri
Production Credits
Screenwriter: Nozawa Hisashi
Producer: Kita Reiko
Director: Nakae Isamu, Sawada Kensaku
Music: Yoshimata Ryo
Episode Information