Het is tijd voor een contest en wel de: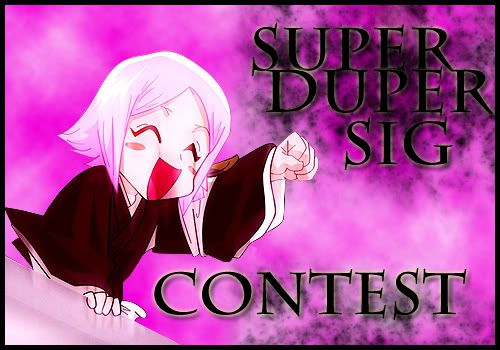 En wat gaan we doen dan?
We gaan een sig maken van Yachiru.
Wie is dat dan weer?
Dat is dat meisje in het plaatje natuurlijk!
En hoe groot mag zo'n ding zijn?
Ergens tussen de 400x140 en de 500x200 pixels.
Zit er nog een deadline aan ofzo?
Ja, je hebt een uur de tijd!
Nee hoor, 25 November moet die klaar zijn.
En doe jij dan ook mee?
Misschien.
Hoezo misschien?
Ik wil minstens 3 sigs hebben, heb ik er de 23ste maar 2 dan maak ik de laatste zelf.
Ah okay, en valt er dan nog wat te winnen of doen we dit voor niks?
Er valt zeker wat te winnen, de winnaar krijgt een sig van mij!
Wie zegt dat ze die willen, zo geweldig zijn je sigs niet hoor!
Ja goed, dan is dat hun probleem. Als ze winnen krijgen ze een sig of ze daar nou blij mee zijn of niet!
Nou goed dan, dan rest mij nog een ding te zeggen!